Paul Bernardo & Karla Homolka
Paul Bernardo and Karla Homolka became known as the Ken and Barbie Killers after they committed three heinous murders in the 1990's. But their crimes didn't begin there.
The Life of Paul Bernardo
Paul Bernardo was born on August 27th, 1964, in Scarborough, Ontario. He was described as a happy child who smiled a lot, was always polite and did well in school, but he soon developed dark sexual fantasies and enjoyed humiliating women.
In 1975, Bernardo's father Kenneth was charged with molesting a child and it was revealed he abused his own daughter. His mother Marilyn withdrew from their family and was living in the basement of their home. When Bernardo was 16, his mother revealed to him that he was conceived during an extramarital affair, and Kenneth was not his real father. This caused Bernardo to resent his mother, and he started verbally abusing her.
Bernardo attended the Sir Wilfrid Laurier Collegiate Institute in Scarborough then moved to the University of Toronto Scarborough in 1982. He got a job at Amway, and the sales culture there had a profound effect on him, and he developed an interest in books and tapes of famous motivational get-rich experts.
In October 1987, Bernardo met his future bride and partner-in-crime, Karla Homolka, and they were instantly sexually attracted to each other. Unlike other women he had dated, Homolka encouraged his sadistic behavior and was a willing participant in his crimes.
Becoming The Scarborough Rapist
Bernardo began stalking women in and around Scarborough, and committed his first known rape in May 1987. He followed his first victim to her home on May 4th, 1987, and raped her in front of the house.
On May 14th, 1987, Bernardo raped a 19 year old woman in the backyard of her parents' home. This was followed by another attack that took place on July 17th, 1987, where he beat and attempted to rape a young woman. Bernardo eventually gave up after the young lady fought back.
More attacks followed over a four year period, and his last known attack took place on May 26th, 1990, when he raped a 19 year old woman. This attack enabled police to create a composite sketch of the attacker, since the victim had a very good recollection of the assailant's looks. Police received a tip in July 1990 that an individual named Paul Bernardo closely fit the description of the Scarborough rapist, and he was interviewed by detectives but soon released.
Bernardo was called in for a second interview in November 1990, after police interviewed his friend's wife Tina Smirnis. Smirnis told police that Bernardo had several unusual fetishes, including anal sex and rough sex, and that he had been interviewed previously by police on a rape investigation. Detectives were skeptical of Smirnis' description of Bernardo and because of this, they released Bernardo the day after his questioning.
Early Life of Karla Homolka
Karla Homolka was born on May 4th, 1970, in Port Credit, Ontario, and was the oldest of three siblings. She was popular among those around her, and was described as being pretty and smart. Homolka loved animals, and upon graduating high school, found a job within a veterinary clinic. She met Bernardo at a pet convention when she was 17, and they were instantly attracted to each other. Their attraction grew when they discovered each others' passion for sadomasochism. Bernardo was still raping women at the time he was dating Homolka and she approved of him committing rapes.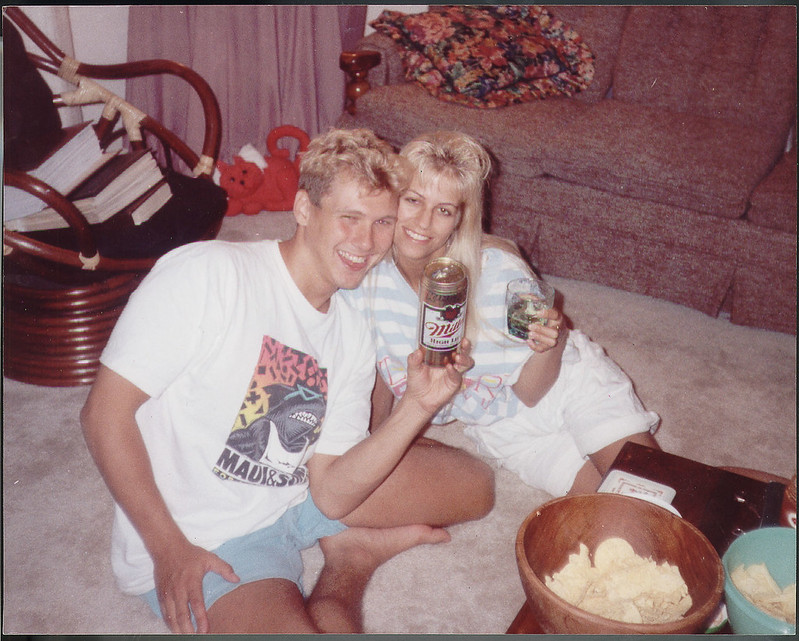 Tammy Homolka
Homolka became a sex slave to Bernardo, but he eventually grew bored of her and said the cause of his boredom was because she was not a virgin when they first got together. Bernardo soon became obsessed with Karla's younger sister, Tammy, and Karla offered to "give him" her sister's virginity.
In the summer of 1990, Homolka laced spaghetti sauce with valium that she had stolen from the veterinary clinic where she worked. The spaghetti was given to Tammy, who eventually lost consciousness. Bernardo used the opportunity to rape her, while Karla watched.
Karla eventually stole halothane, which is an anesthetic, from the clinic in the latter part of 1990. On December 23rd, 1990, Homolka and Bernardo laced Tammy's eggnog cocktail with the halothane, and she soon became unconscious. Homolka said that she wanted to give her sister to Bernardo as a "Christmas present". The pair undressed Tammy and Homolka held a cloth soaked with Halothane to her sister's face. They videotaped themselves raping Tammy in the basement of Homolka's home. Tammy vomited, and after trying to revive her. Bernardo and Homolka called 911 after hiding evidence, dressed Tammy, and moved her to her bedroom. Tammy was pronounced dead a few hours later at St. Catharines General Hospital.
The coroner ruled Tammy's death as accidental, citing choking on vomit as a result of alcohol consumption. The drugs in her body was never discovered, and although there were chemical burns on her face, further investigation was never carried out.
The Pair's Crimes Intensifies
Tammy's death did nothing to satisfy Bernardo; instead this intensified his dark desires. On the early morning of June 15th, 1991, Bernardo was driving through Burlington to steal license plates, and happened upon 14 year old Leslie Mahaffy. She had missed her curfew and was locked out of her home. Bernardo approached her and said he wanted to break into a neighbour's house. Mahaffy then asked for a cigarette. Bernardo led her to his car, and when they were close enough, he blindfolded her, forced her into the car, and drove her to his home.
Homolka willingly participated in the rape and torture of Mahaffy, while she and Bernardo videotaped themselves. Their victim revealed that her blindfold was slipping off, and this prompted her attackers of the possibility that she would be able to identify them. What took place the following day is varied; Homolka claimed Bernardo strangled their victim to death, while Bernardo claims Homolka poisoned Mahaffy with Halcion. They hid the body in the basement, and had their family over for dinner the following day .
After Homolka's family left, the pair decided to dismember the body and encase the parts in cement. It took several trips for them to dump the cement blocks in Lake Gibson. Bernardo and Homolka's wedding took place on June 29th, 1991, the same day the cement blocks containing Mahaffy's body parts were discovered. The killer pair enjoyed a lavish wedding, which included a horse drawn carriage entrance.
The following year, on April 16th, 1992, Bernardo and Homolka were driving through St. Catharines to look for a potential victim. As they drove past Holy Cross Secondary School, they spotted 15 year old Kristen French, who was walking home. They pulled into a nearby church parking lot, and Homolka approached French with a map in her hand, pretending that she needed assistance. French stopped to look at the map, and while she did so, Bernardo came up from behind and attacked her, then forced her into their car by holding a knife on her. Homolka controlled French by grabbing her hair.
French's parents reported her missing after she failed to arrive home at her usual time. Police found several witnesses who saw the abduction, and recovered her shoe from the church parking lot. Bernardo and Homolka recorded themselves torturing and raping their victim during the Easter weekend, and forced her to drink alcohol and be submissive to Bernardo.
Bernardo and Homolka murdered French that weekend, and again, there were two versions of the killing. Bernardo claimed Homolka beat French with a mallet then strangled her; Homolka claimed Bernardo strangled their victim while she watched for about seven minutes. They dumped French's nude body in a ditch in Burlington, which was a short distance from the cemetery where Mahaffy was buried. The body was discovered on April 30th, 1992, and had been washed and her hair was chopped off.
Ken and Barbie Killers Are Arrested
The DNA sample Bernardo had submitted to police in connection to the Scarborough rapes was eventually tested in December 1992. Bernardo beat Homolka so severely with a flashlight on December 27th. She told others that her injuries were due to a car accident, and soon returned to work on January 4th, 1993. Her coworkers were skeptical of her claims, so they called her parents and expressed their concerns. Her parents showed up to her home the following day to take her to the hospital, where she reported that she was an abused spouse. Bernardo was arrested, but soon released.
It was soon determined that Bernardo's DNA sample matched that of the Scarborough rapist, and he was soon placed under 24 hour surveillance. Homolka was interviewed by the Metro Toronto Sexual Assault Squad on February 9th, 1993, but she chose to focus on the abuse she received from Bernardo. Later that night, she revealed to her aunt and uncle that Bernardo was the Scarborough rapist, and that she was an accomplice in the murders of French and Mahaffy. She also revealed that there were videotapes of the attacks.
The police reopened the investigation on the death of Tammy Homolka, and Karla Homolka was placed under 24 hour surveillance. Two days later, Homolka met with lawyer George Walker, who attempted to seek legal immunity for her in exchange for her cooperation.
Bernardo was arrested on February 17th on several charges, and a search warrant was obtained. The warrant, however, was weak, so police were only able to search the couple's home without removing evidence. The search lasted 71 days, and police were only able to recover one videotape of Homolka performing oral sex on an unknown victim. Homolka was offered a plea bargain of 12 years if she cooperated with police, and she accepted. She told police that Bernardo talked about committing over 30 rapes, and called him the "happy rapist".
Trial
Bernardo was put on trial in 1995 for the murders of French and Mahaffy, and the trial included videotapes of the rapes and testimony from Homolka. Bernardo tried to turn the tables, and say that his wife was the actual killer. He was eventually convicted of the two murders in the first degree, kidnapping, dismemberment and two counts of aggravated sexual assaults on September 1st, 1995.
Homolka was arraigned on two counts of manslaughter on May 18th, 1993. She divorced Bernardo in February 1994. Homolka was released in 2005, and has remarried. Bernardo was denied parole in 2018, and he has still refused to apologize or show remorse for his crimes.