Leonarda Cianciulli; Prolific Italian Serial Killer.
Leonarda Cianciulli was an Italian woman who committed a series of murders in 1940, and used parts of her victims to make soaps and tea cakes.
Early Years
Leonarda Cianciulli was born on April 18th, 1893, in Montella, Italy. She had an unhappy childhood, and even attempted suicide twice.
In 1917, she married a registry office clerk named Raffaele Pansardi. Her parents did not approve of their union because they had promised her to another man. Cianciulli said that her mother cursed the pair.
Cianciulli was pregnant seventeen times during her marriage, but she had three miscarriages and ten more children died in their youth. Due to these occurrences, she was overprotective of her four living children. She was a superstitious woman, and a fortune teller added to Cianciulli's fear by telling her that she would get married and have children, but all of her children would die young.
Cianciulli and her husband moved to the town of Lauria, Potenza, in 1921, and she was arrested for fraud in 1927. After her release, the couple then moved to Lacedonia, Avellino, and their home was destroyed due to the Irpinia Earthquake in 1930.
They then moved and settled in Correggio, Reggio Emilia, where Cianciulli opened a shop. She was a popular resident and very well-respected in the neighborhood.
Murders
Giuseppe, Cianciulli's eldest son and favorite child, intended to join the Italian Army in 1939 for World War II. Cianciulli was determined to protect her son, so she decided to perform human sacrifices as a way to secure his safety.
Her first victim was a spinster named Faustina Setti, who believed that Cianciulli could help her find a husband. Cianciulli told Setti not to tell anyone of her possible partner in the city of Pola, and also told her to write postcards and letters to send to relatives and friends.
Before travelling to Pola, Setti visited Cianciulli for one last time. Cianciulli gave Setti a glass of wine that was drugged, attacked and killed her with an axe and dragged the body in a closet. She then cut the body up in nine pieces and drained the blood into a basin.
In her statement, Cianciulli described dissolving Setti's body parts by using caustic soda which she bought for soap-making. After the body pieces were dissolved into a thick, mushy liquid, she poured the solution into buckets and emptied them in a nearby septic tank.
After Setti's blood was hardened in the basin, Cianciulli dried it in her oven, then mixed the blood in with edible materials to produce tea cakes. She served the cakes to ladies who visited her, and her son Giuseppe even ate some of them.
It was reported that Cianciulli received Setti's life savings of 30,000 Italian lire as payment for her matchmaking services.
Her second victim was a woman named Francesca Soavi. Cianciulli claimed she found Soavi a job at a school for girls in the city of Piacenza. Soavi was also persuaded to write letters and postcards to send to relatives and friends containing the details of her "new job".
She visited Cianciulli on September 5th, 1940, and like Setti, was given drugged wine and killed with an axe. Soavi's body was dismembered and treated just as Setti was, and this time Cianciulli received 3,000 Italian lire as payment.
Cianciulli's last victim was a former soprano named Virginia Cacioppo. Cianciulli told her victim that she located a secretarial job for her in Florence. As before, she instructed her victim not to tell anyone where she was going, and Cacioppo visited her on September 30th, 1940. This time, however, Cianciulli decided to melt her victim's body after drugging and murdering her to make both soaps and cakes, which she gave to neighbors and friends.
Cianciulli received 50,000 lire from Cacioppo, along with jewels and public bonds. She even sold her victim's clothes and shoes.
Cianciulli Crime Discoveries and Death
Cacioppo's sister was suspicious of her disappearance and last saw her entering Cianciulli's home. She reported her sister's disappearance to a police superintendent in Reggio Emilia, who then opened an investigation and eventually arrested Cianciulli.
At first, she denied committing any crimes. Cianciulli confessed to her crimes only after the police expressed their beliefs that her son Giuseppe was involved. To save him, she gave detailed accounts of each murder and why she committed them.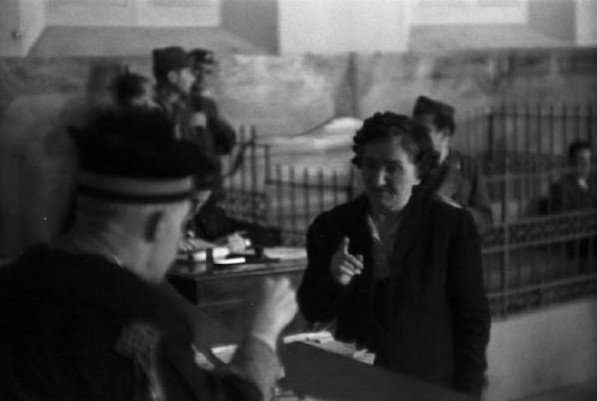 In 1946, Cianciulli was tried and found guilty of murder. She was given a sentence of thirty years in prison and three years in a criminal asylum.
Cianciulli died of cerebral apoplexy on October 15th, 1970, while still incarcerated in the criminal asylum. She was 79 years old.