Ed Gein; The Killer Who's Gruesome Crimes Are Still Shocking Today.
Meet the man who was the inspiration for numerous horror novels and movies, most notably, Psycho, The Texas Chainsaw Massacre, and The Silence of the Lambs.
Early Life
Edward Theodore Gein was born on August 27th, 1906, in La Crosse County, Wisconsin, to George Philip Gein and Augusta Wilhelmine Gein. Gein had one older brother named Henry George Gein.
George Gein was an alcoholic who was unable to keep a job, and Augusta despised him because of this. George owned a local grocery store for a few years, but sold the store and the family left to live in isolation on a 155-acre farm in the town of Plainfield in Waushara Country, Wisconsin.
Augusta took full advantage of the farm's isolation by turning away outsiders who could have influenced her sons. Ed left the farm only to attend school. Otherwise, he spent his time doing chores on the farm. Augusta was extremely religious.
She preached to her sons about the immorality of the world, the evils of drinking and her belief that all woman (besides herself) wee instruments of the devil and naturally promiscuous. She read verses from the bible every afternoon, usually from the Old Testament concerning murder, death and divine retribution.
Ed was known to be shy, and classmates and teachers remember him showing strange mannerisms, like random laughter. His mother punished him whenever he tried to make new friends, and despite his low social development, he did well in school.
Family Death
Ed's father George died on April 1st, 1940, due to heart failure caused by his alcoholism. Henry and Ed soon began doing jobs around town to cover living expenses. The brothers were considered to be honest and reliable by the residents in the town. Ed also often babysat for his neighbors. Henry soon began dating a woman who was a divorced mother of two, and he planned to move in with her but worried about his mother's hold on Ed.
On May 16th, 1944, Henry and Ed were burning marsh on the property and the fire got out of control, thus prompting assistance from the local fire department to extinguish the blaze. After the fire was extinguished and the firefighters were gone, Ed reported his brother to be missing. A search party searched for Henry using lanterns and flashlights, and they found his dead body lying face down. He had been dead for a while, and the apparent cause of death was heart failure since they were no burns or other noticeable injuries present on his body.
Police dismissed the idea of foul play, and the coroner officially listed the cause of death as asphyxiation. The authorities accepted the accident theory and an official autopsy was not performed, although some people believed Ed killed his brother.
Gein's mother Augusta had a paralyzing stroke soon after Henry's death. Ed devoted himself to taking care of her. His mother soon had another stroke some time in 1945, and her health deteriorated rapidly. She died on December 29th, 1945, at the age of 67. Ed was devastated by her death, and was alone in the world.
Ed kept the farm, and took care of it with money he earned from odd jobs. He boarded up the rooms used by his mother, including the upstairs and downstairs parlor, and the living room, leaving them untouched. The rest of the house was a disaster. Gein then lived in a small room next to the kitchen, and became interested in reading pulp magazines and adventure stories, particularly those involving cannibals or Nazi crimes.
Crimes
On the morning of November 16th, 1957, Plainfield Hardware store owner Bernice Worden suddenly disappeared. A resident recalled seeing the hardware store's truck being driven out from the rear of the building around 9:30 am. The store was closed the entire day, and it did not strike residents as odd because they thought this resulted from deer hunting season. Worden's son, Deputy Sheriff Frank Worden, entered the store around 5:00 pm, and found the store's register open and blood stains on the floor.
Frank Worden told investigators that Ed Gein was in the store on the evening before his mother disappeared, and that he was supposed to return the next morning for a gallon of antifreeze. A sales slip for a gallon of antifreeze was the last receipt written by Worden on the morning she disappeared. Gein was arrested the same evening in a West Plainfield grocery store, and his farm was searched by Waushara County Sheriff's Department.
A sheriff's deputy discovered Worden's decapitated body in a shed on Gein's property, hung upside down by her legs with a crossbar at her ankles and ropes at her wrists. Her torso was "dressed out like a deer". She had been shot with a .22 caliber rifle, and Gein mutilated her after her death. During their search of the house, authorities made several disturbing discoveries, including human bones and skin, household items crafted from human body parts, Mary Hogan's face and skull and Bernice Worden's head and her heart.

Inside of Gein's home.
When questioned by police, Gein said that between 1947 and 1952, he carried out at least 40 nocturnal visits to three local graveyards to exhume bodies that were recently buried, while he was in what he called a "daze-like state". On 30 of those visits, he said he came out of the daze while still at the cemetery, left the grave in good order, and left empty-handed. On other occasions, he dug up the graves of middle-aged women who were recently buried, and who he thought resembled his mother. He then took the bodies home, tanned their skin and created his paraphernalia.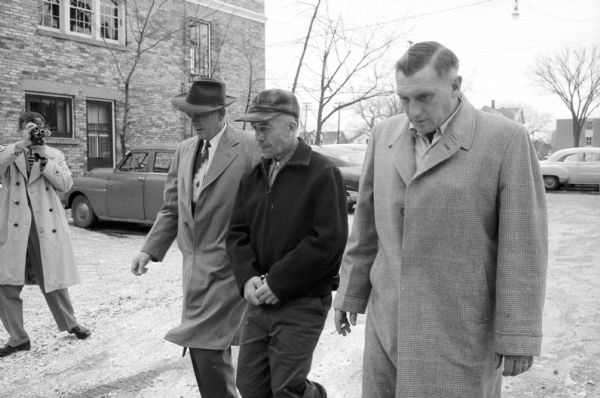 Gein under arrest.
Gein then led authorities to the graves he had stolen from and Allan Wilimovsky, who worked at the state crime laboratory, participated in opening three graves that Gein identified. The caskets were inside wooden boxes, and the top of the boxes were approximately two feet below the surface. He had robbed the graves soon after the funerals had taken place since the graves were not completed. The test graves were found as Gein described; two of the exhumed graves were found empty (one had a crowbar there to replace the body), and most of the body was missing from the third grave, but Gein returned some rings and body parts.
Some time after his mother passed, Gein began to piece together a "woman suit" so that he could become his mother physically. He denied having sex with the bodies that he dug up, stating that "they smelled too bad". During his interrogation, Gein also admitting to shooting Mary Hogan, the owner of a tavern who was missing since 1954. Her head was found in his home.
Gein was also considered to be a suspect in other unsolved disappearances in Wisconsin, including the case of Evelyn Hartley, a La Crosse babysitter who vanished in 1953.
While being questioned, Waushara County sheriff Art Schley assaulted Ed by slamming his head and face into a brick wall. As a result, Ed's original confession was deemed inadmissible. Sheriff Schley died as a result of heart failure in 1968.
Trial
Ed Gein was arraigned on one count of first degree murder on November 21st, 1957, in Waushara County Court. He pleaded not guilty by reason of insanity. Gein was diagnosed as schizophrenic and found to be mentally incompetent; meaning he was not fit to stand trial. He was sent to the Central State Hospital for the Criminally Insane, which is a maximum-security facility in Waupun, Wisconsin. He was later transferred to the Mendota State Hospital in Madison, Wisconsin.
Doctors decided Gein was "mentally able to confer with counsel and participate in his defense" in 1968, and his trial began on November 7th that same year. A psychiatrist testified that Gein told him that he was not sure if the Bernice Worden murder was accidental or intentional. Gein said that while examining a gun in Worden's store, the gun went off, killing her. Gein testified that after loading a bullet into the rifle, it went off. He said he did not aim the rifle at Worden, nor did he remember any other events from that morning.
Ed Gein was found guilty by Judge Robert H. Gollmar on November 14th. A second trial took place concerning Gein' mental health, and after testimonials from doctors representing the prosecution and the defense, Gein was found "not guilty by reason of insanity". He was committed to the Central State Hospital for the Criminally Insane, and spent the rest of his life committed to mental hospitals. Judge Gollmar stated, "due to prohibitive costs, Gein was tried only for one murder- that of Mrs. Worden. He also admitted to killing Mary Hogan."
Death
Ed Gein died at the Mendota Mental Health Institute on July 26th, 1984, from respiratory failure secondary to lung cancer. He was 77 years old. Souvenir seekers gradually chipped away pieces from his gravestone at the Plainfield Cemetery, until the stone was stolen in 2000. It was recovered near Seattle in June 2001, and placed in storage at the Waushara County Sheriff's Department. The grave-site is now unmarked, but interred between his brother and parents in the cemetery.